BJJ BElt promotion Philosophy:
Cies mma
Earning a Brazilian Jiu-Jitsu Black Belt takes years of discipline and dedication. No Cies MMA Belts of any rank are awarded based on the length of time an individual has been training or for any reason other than technical ability and skill. We do not believe in automatic belts. Each new rank must be earned through consistent training and improvement, the Black Belt most of all.
Mike, following in his coaches foot-steps, has notoriously high standards for promotion. This can be frustrating for some members however, each individual who has earned a colored belt from Cies MMA can rest assured it was earned and never given based on attendance alone.
It took Mike 7 years to achieve his black belt, however he trained No-Gi and MMA 12 years prior to putting the Gi on and training strictly Brazilian Jiu Jitsu. He was already a UFC level fighter and had submitted someone at that level as well.
The only way to earn a belt in Brazilian Jiu Jitsu at our academy is to train in the Gi, we do not promote based on No-Gi Grappling or MMA skill.
It takes the average person 10-12 years to earn a black belt, spending multiple years at each belt level before achieving their black belt.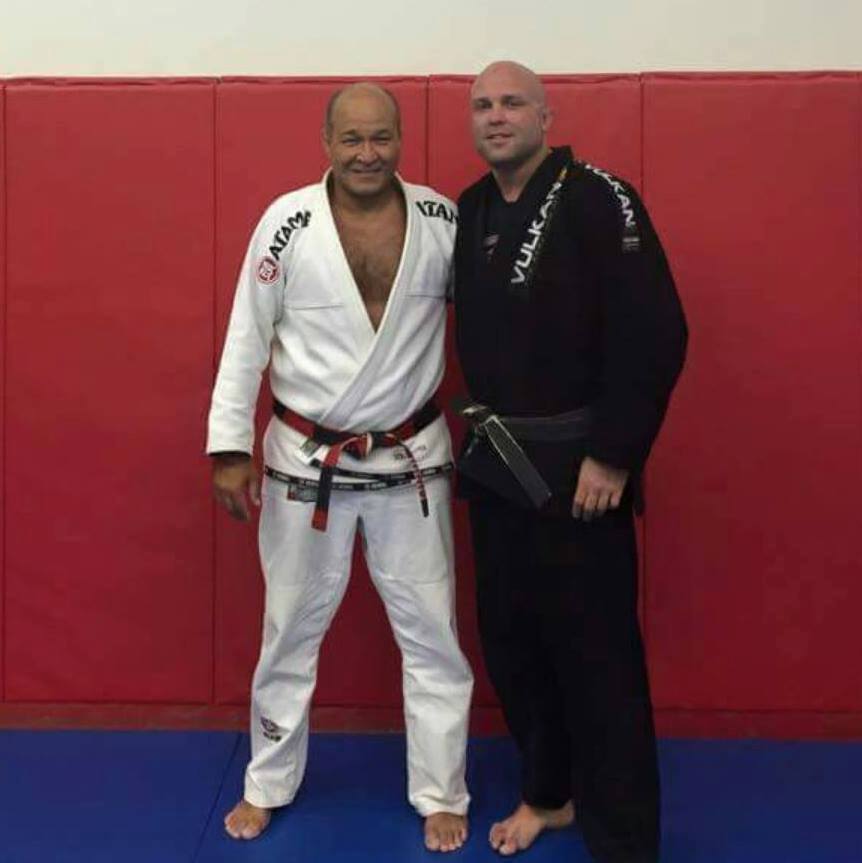 BJJ Brown Belt's Promoted by Mike Ciesnolevicz
#1 Barb Ciesnolevicz, July 25th 2022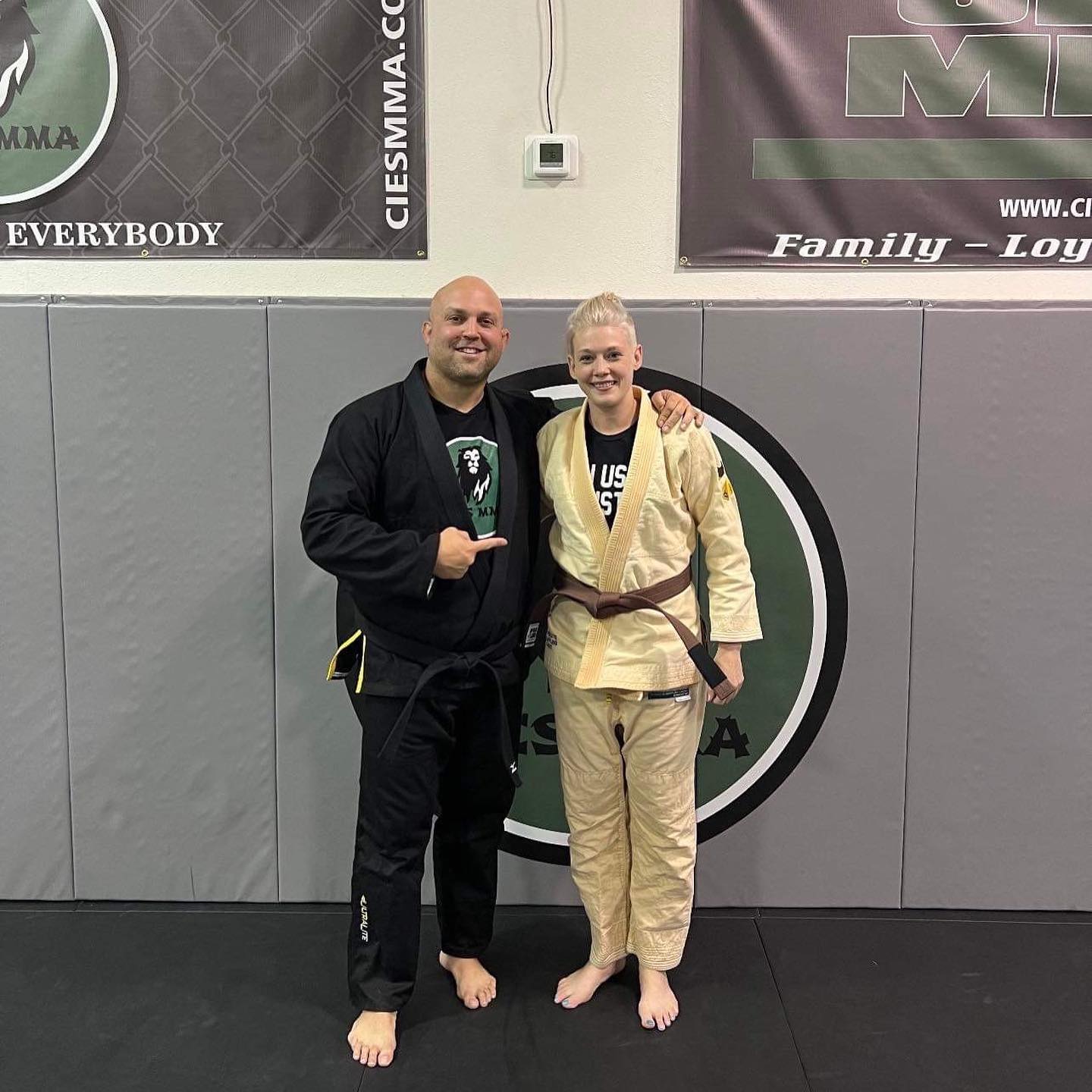 We are proud to have coach Barb Ciesnolevicz as the gym's first ever BJJ Brown belt. Barb started BJJ in 2012 but the military led her to Colorado Springs and to Cies MMA as one of its first members in 2016. Starting as a white belt at our gym, with some experience, Barb always showed eagerness to learn and improve. She has hundreds of BJJ matches, some being against high level black belts such as UFC title challenger Roxanne Modaferri winning in regulation as a purple belt. She also climbed her way to the #1 ranking for Gi in the IBJJF and #2 in the world for no gi at the purple belt level. Barb was our first athlete to also go pro in MMA, and boasts a 1-1 record in that discipline as well. More importantly Barb has consistently coached our kids program to success for the past 3 years, and also occasionally subs in to teach adult classes. The brown belt is a very tough belt ranking to earn, and the recipe per coach Barb is to "keep showing up, and always be a student of jiu jitsu, there is always something to learn from everyone".
BJJ Purple Belt's Promoted by Mike Ciesnolevicz
Aaron Gatti #2 October 22, 2020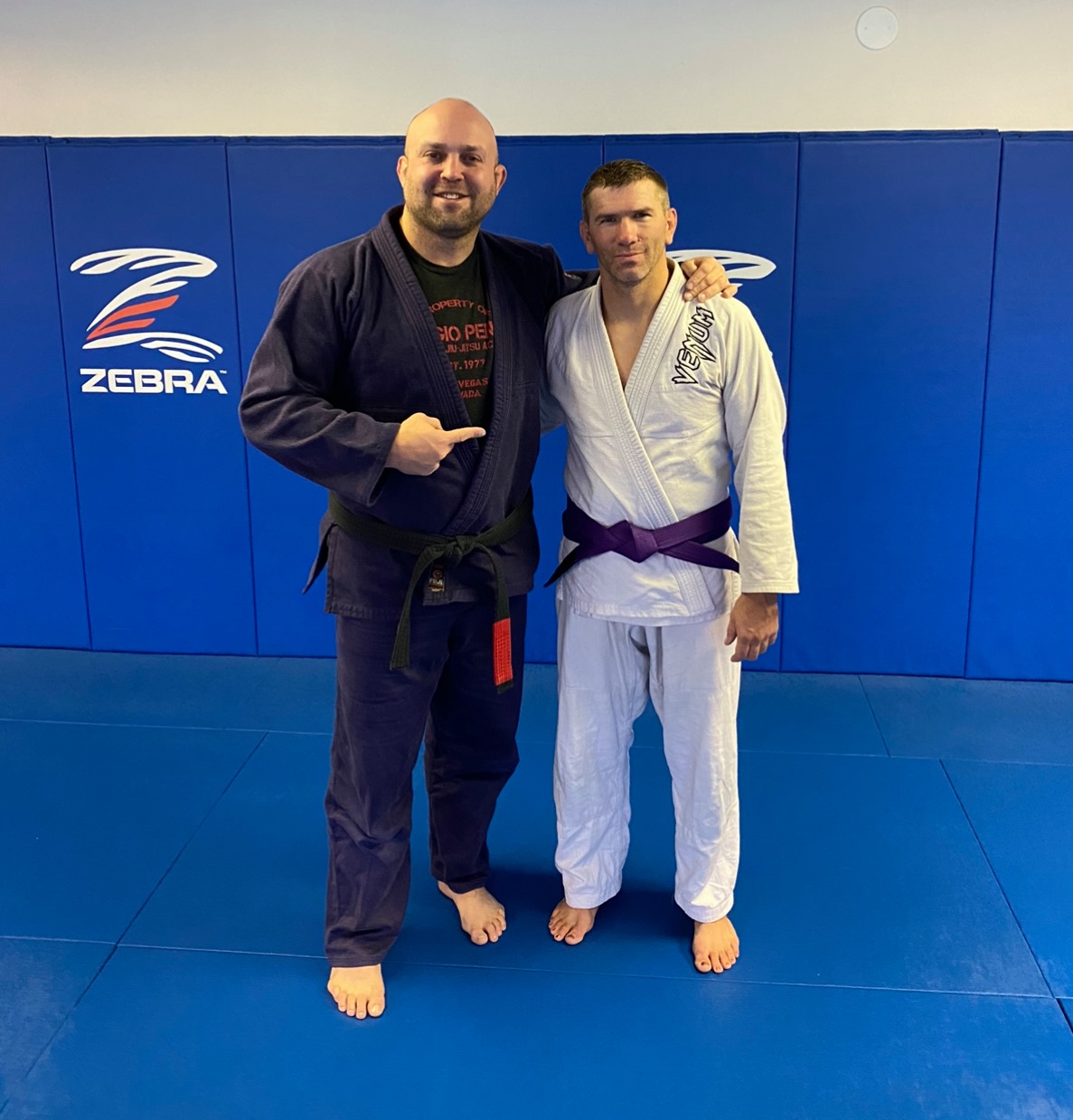 Aaron started at Cies MMA in early 2017 as a white belt, and has quickly progressed in his Jiu Jitsu. Aaron has been a firefighter since 2007 and has never let his schedule get in the way of training and learning the art of BJJ. What is most impressive about Aaron is his style, it mimics perfectly the style that Master Sergio Penha teaches. If you get the pleasure of rolling with Aaron you will quickly understand what we mean when we say that. Aaron has competed and done extremely well for Cies MMA despite his busy schedule working and being a husband and father. It was Professor Mike's distinct honor to award his second ever purple belt to Aaron Gatti on October 22, 2020.
Glenn Wall #3 February 24, 2021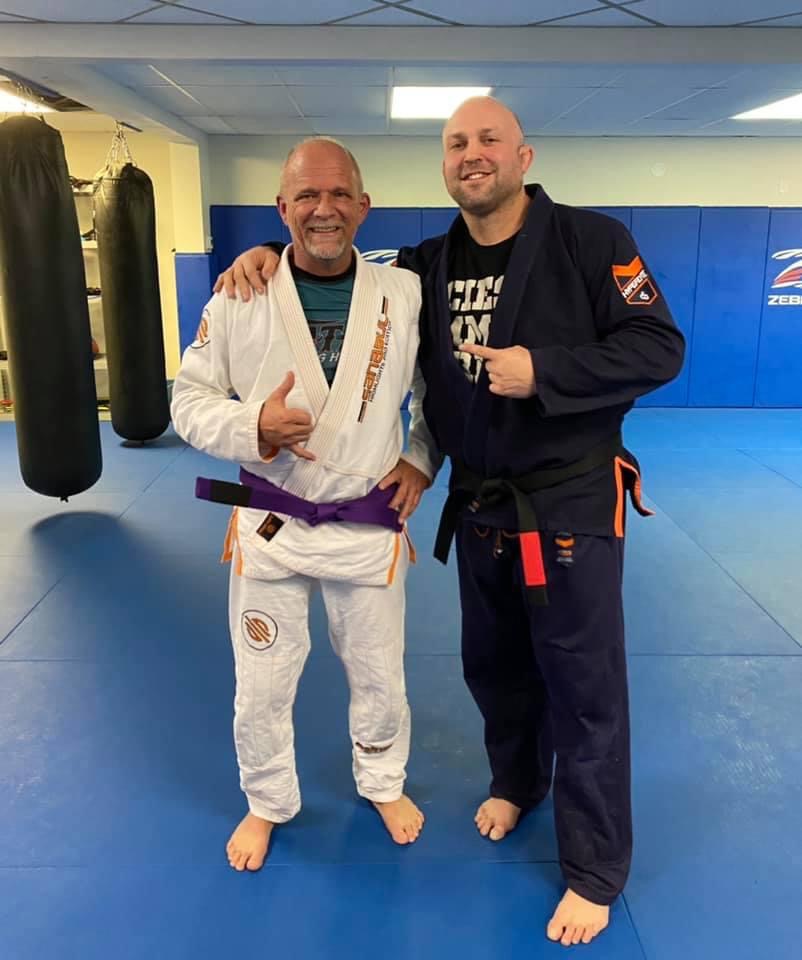 Glenn has been a loyal member of Cies MMA since 2017, however he even stopped in for open mats in 2016! Glenn has been with us since the very beginning. Despite having to have a total knee replacement, Glenn still finds time to train Jiu Jitsu and is extremely helpful in training. Glenn has an extensive grappling background, to include earning a Judo Black Belt. When you see Glenn on our mats, you can expect an extremely nice and welcoming practitioner, yet even with his injuries an extremely tough and skilled roll. It was Mike Ciesnolevicz's distinct honor to promote Glenn to be his fourth ever purple belt.
#4 Darien "Dueces" Robinson April 4, 2022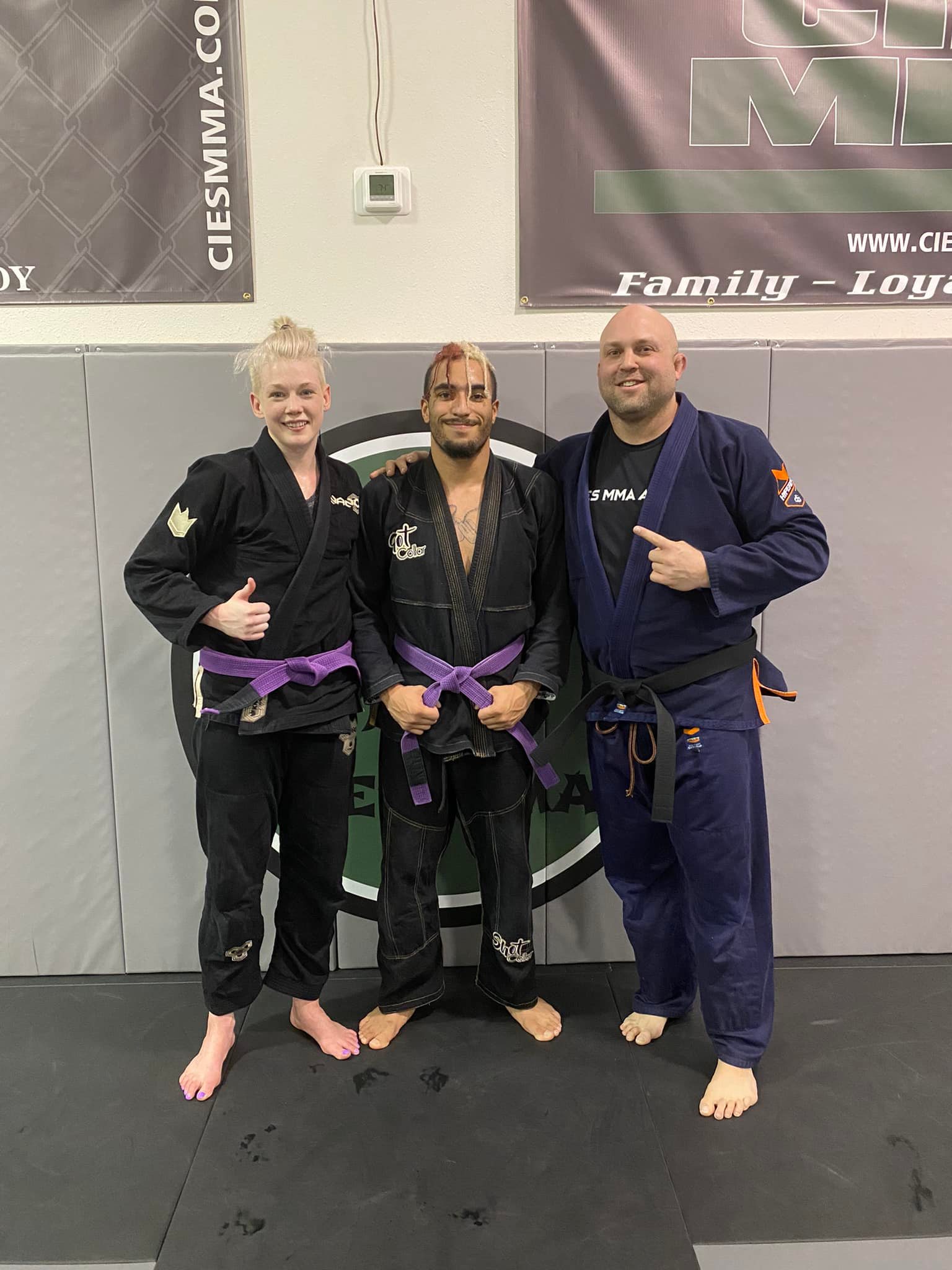 Darien has been a member of Cies MMA since 2017, one year after its inception. After doing extremely well in his BJJ competitions and MMA fights he earned a blue belt 1.5 years after he started training. His journey to purple belt was well earned and full of experience, competing over 30 times in Gi BJJ although his main focus is MMA. He truly represents Professor Mike Ciesnolevicz's philosophy of embracing the art of Jiu Jitsu and wearing the gi no matter the goal. Darien boasts a 5 fight win streak in MMA, and is an undefeated Professional fighter. He started with us with no experience and now is one of our most accomplished and knowledgable athletes. It was Professor Mike Ciesnolevicz's distinct honor to award his 5th ever purple belt to Darien Robinson on April 4, 2022.
#5 & #6 Robby Spinella and Joshua Kines August 24, 2022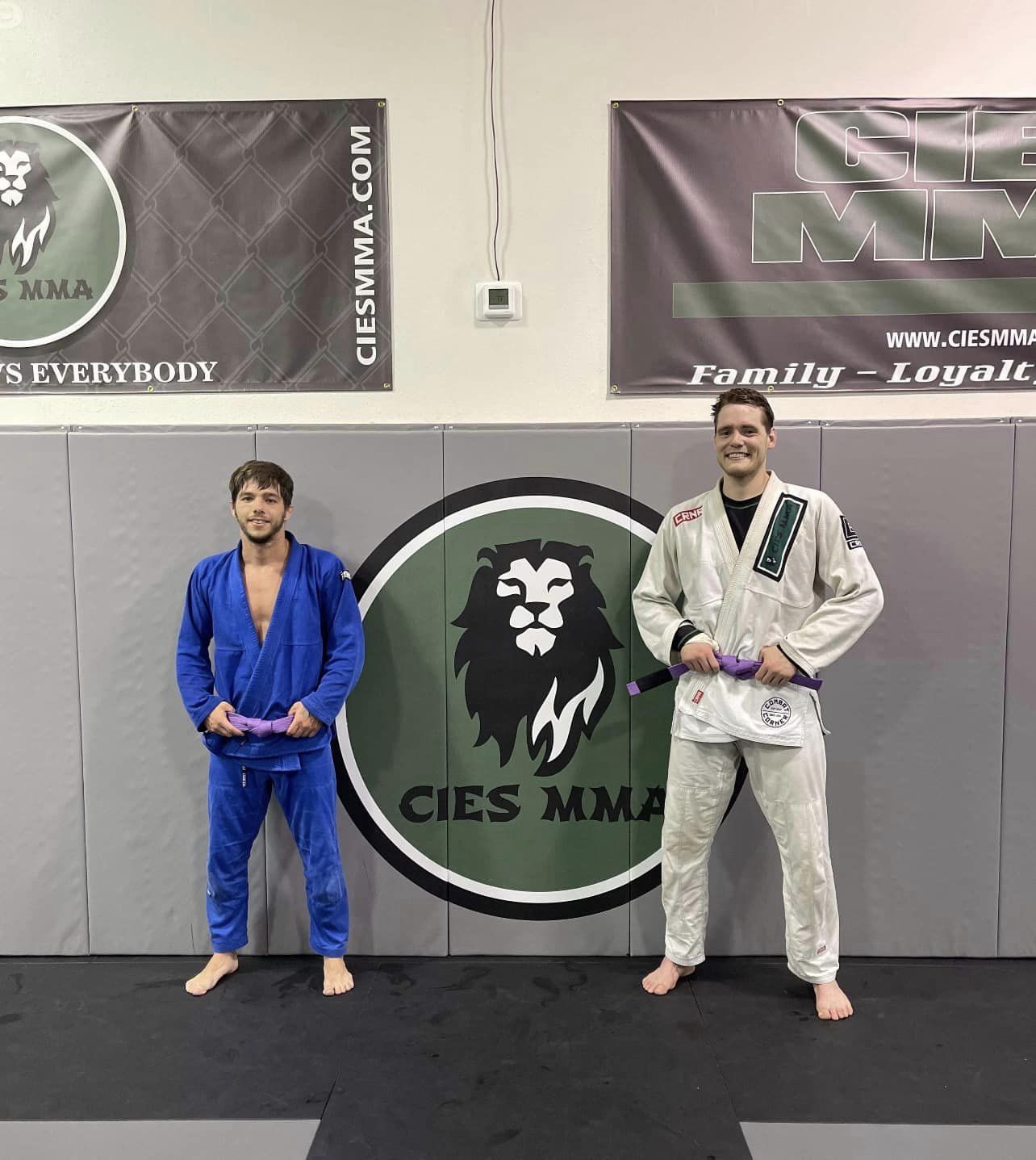 These two newly promoted purple belts are historically two of the most dedicated members to the art of Jiu Jitsu. They both received their blue belts together 2 years prior to receiving their well deserved purple belts. They have done every local tournament to date but more importantly are always on the mats learning and willing to help others learn. They both have subbed for classes as blue belts, and with their well equipped knowledge we are excited to see them grow even more. Professor Mike Ciesnolevicz was elated to award these men their purple belts as his 6th and 7th ever purple belts given out.
#7 Dylan Hawthorne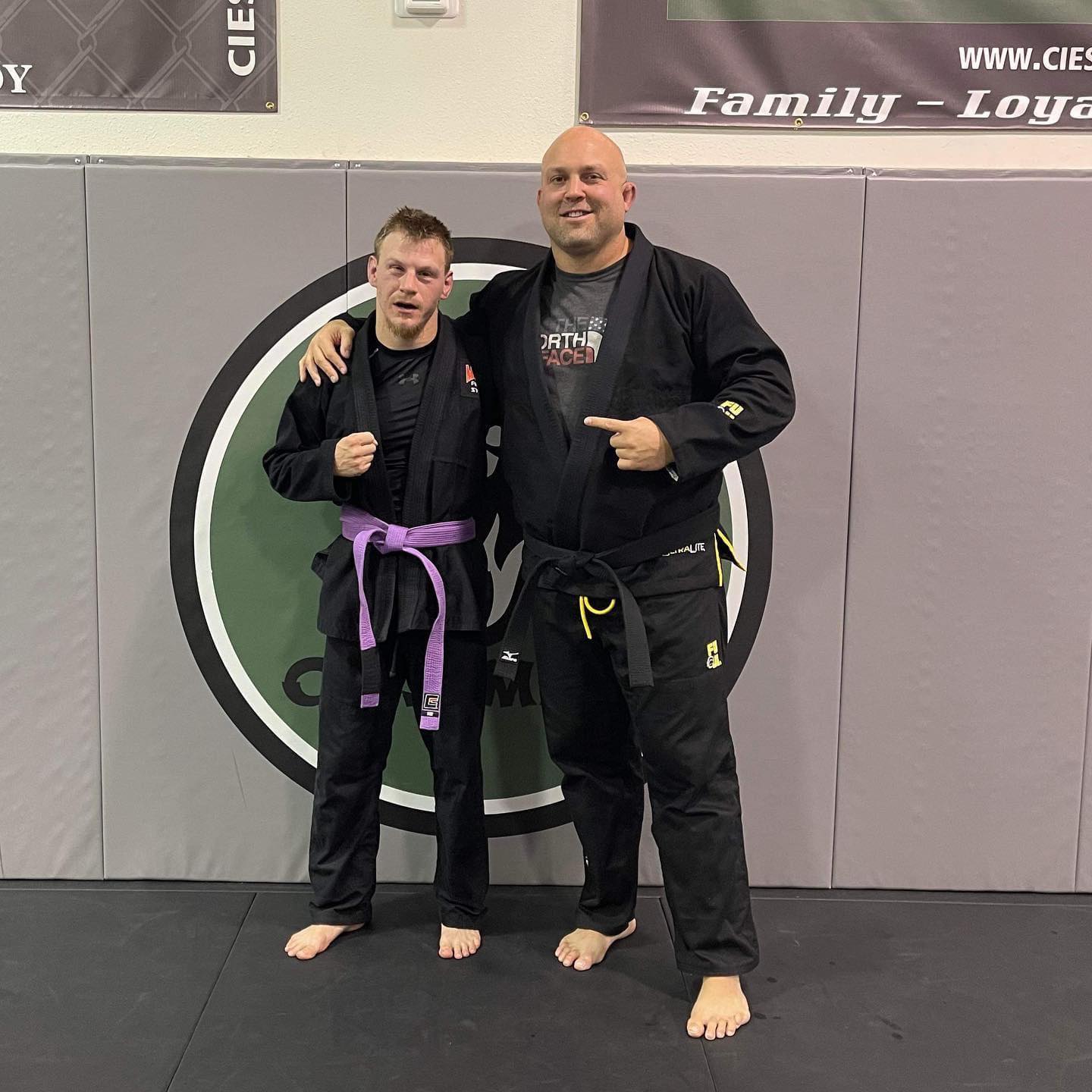 Dylan Hawthorne becomes the gyms 8th purple belt on Sept 27, 2022! Professor Mike Ciesnolevicz was honored to award one of our lifetime members this amazing achievement. Dylan spent over 3 years at blue belt racking up so much experience by competing in both Jiu Jitsu/MMA and by consistently showing up to train. Dylan is one of the best training partners in the whole academy and is a sponge when it comes to learning. He is the epitome of what we look for in the purple belt level and we can't wait to see what he does moving forward.
#8 Steve Peters November 14, 2022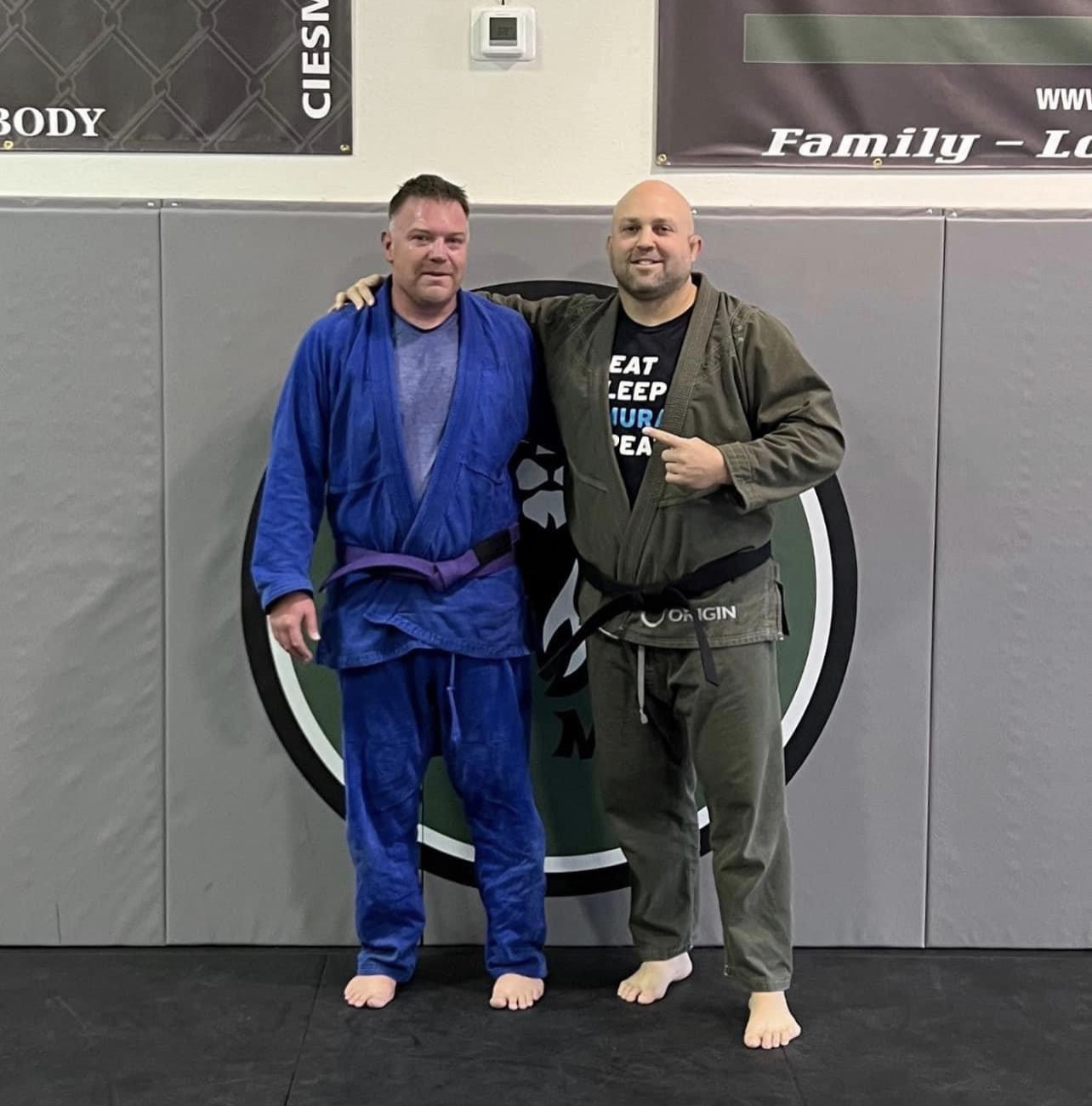 Steve has been a member of Cies MMA since March of 2017 and has always found a way into the gym no matter how busy his life gets. Steve commutes from around 1hr away just to train at our gym, and is a Lieutenant in the Monument Fire Department. An upstanding citizen and father, Steve exemplifies being a good person on and off the mats. It was professor Mike Ciesnolevicz's honor to promote Steve as his 9th ever purple belt on November 14th 2022.
#9 Drew Chancellor November 30, 2022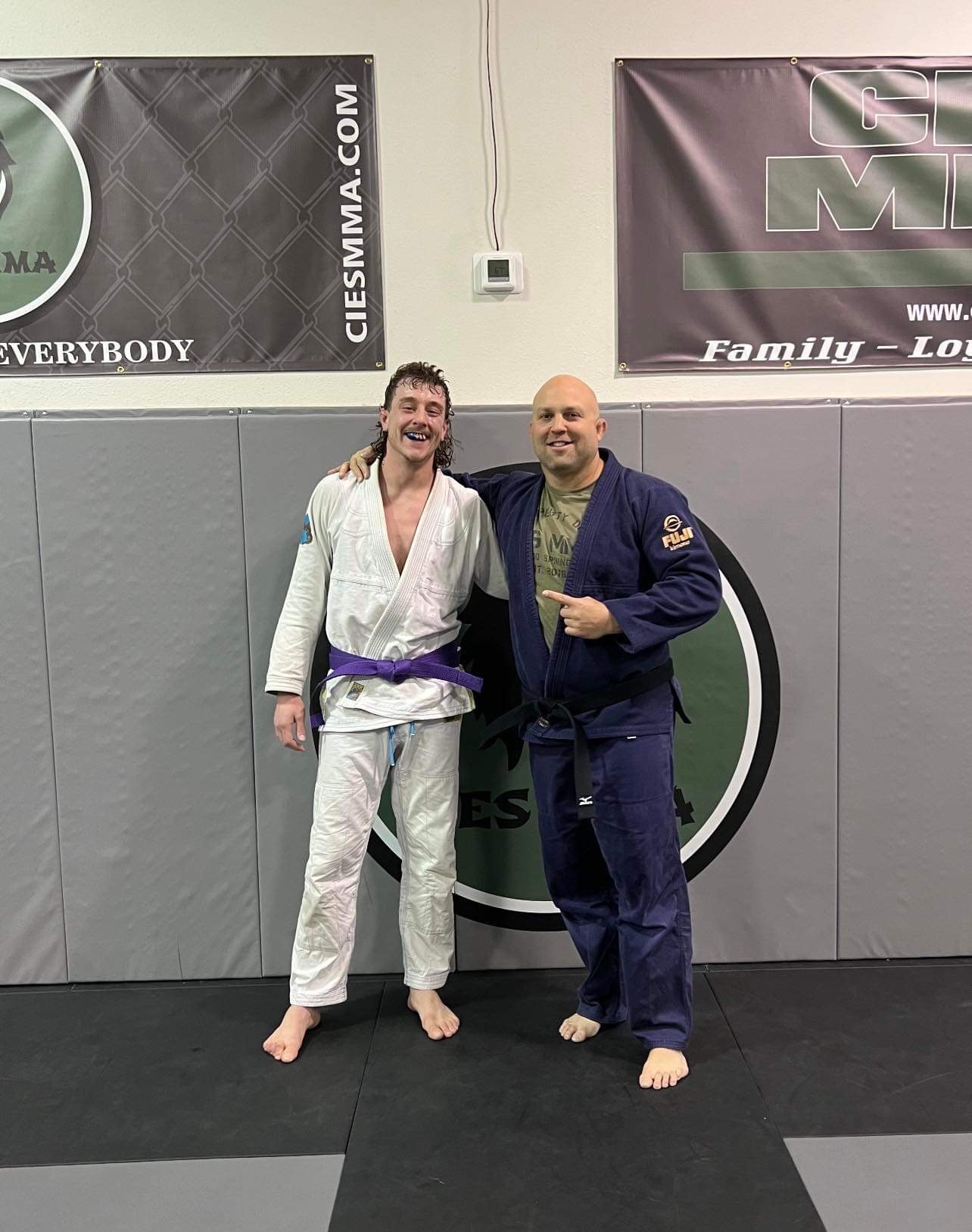 Don't let Drew's positive and inviting attitude fool you! Drew is absolutely dangerous on the mats and his dedication to Jiu Jitsu as a whole is rarely matched by his peers. He spends at least 6 days a week improving his craft, and on top of that is very helpful to all new members who step foot through the door. Drew is exactly the type of practitioner that Professor Mike Ciesnolevicz looks for in a Purple Belt, and he was extremely excited to promote him to his 10th ever Purple belt in 6 years of Cies MMA's existence.
#10 Jacob Hawthorne January 30, 2023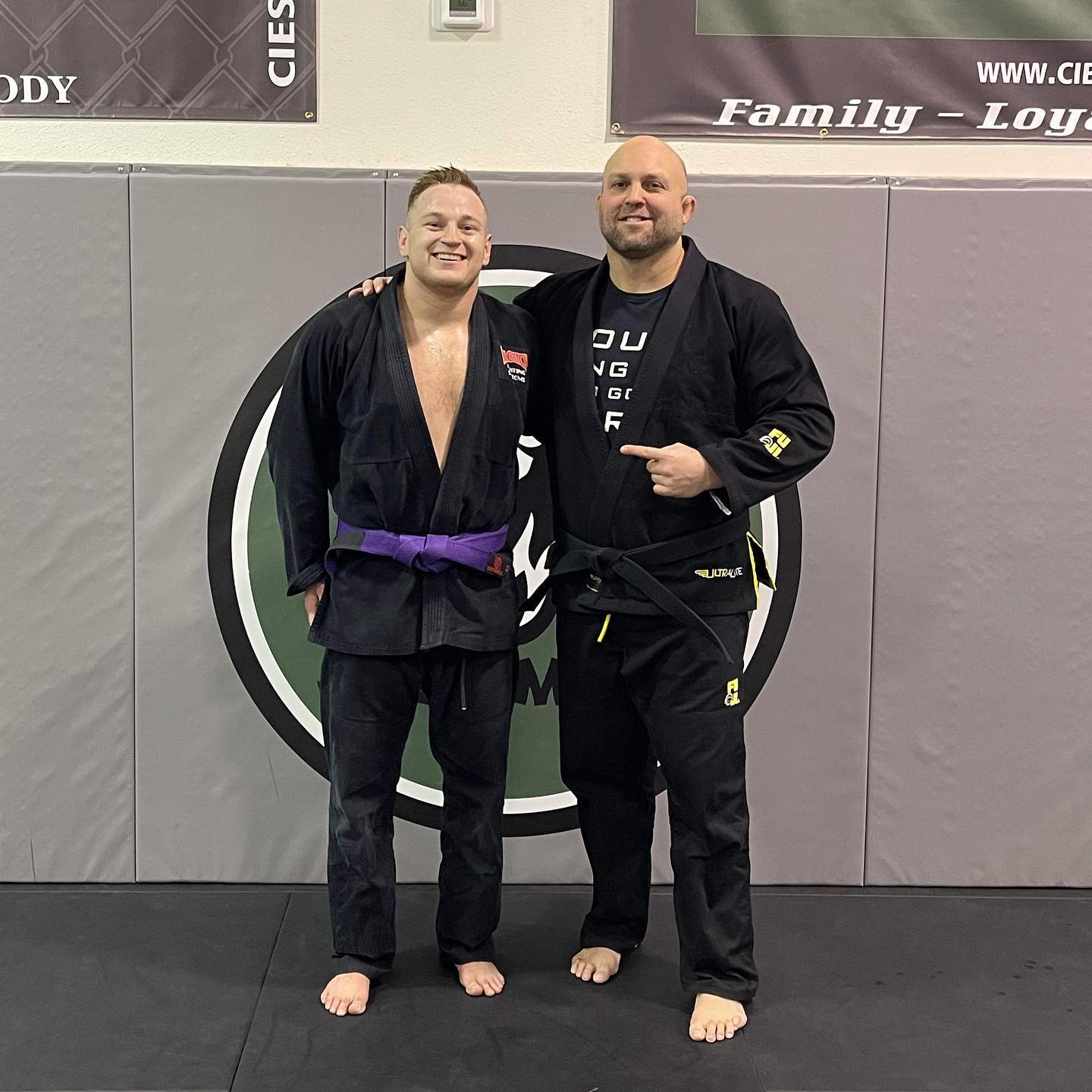 Jacob has been a part of Cies MMA for almost 4 years, and came to us with an extensive wrestling background to include a Collegiate career. Jacob has always picked up on moves extremely quick due to this background but what has always impressed us is his willingness to try techniques that were different than the standard top game pressure wrestlers embody. Jacob has subbed in for multiple No Gi classes, sharing his wrestling knowledge and is more than willing to help any and everyone at anytime. He is also a Colorado Springs Firefighter following a career as a teacher and Wrestling coach, showing all that time is never an excuse. Professor Mike Ciesnolevicz was honored to promote Jacob to his 11th ever purple belt student.